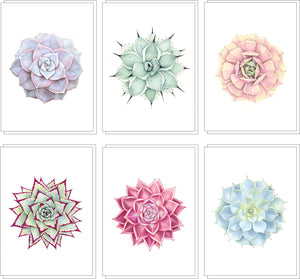 These illustrations were created as part of my "Sahara" collection which was inspired by my interest in desert succulents and their symmetrical artistic aspects. While collaborating with KT & Biddy (@ktandbiddy), the Queensland succulent loving sisters and using their beautiful reference photography I learnt more than just about the succulent's aesthetics.
This collection of artwork features calming pastel hues of desert succulents. As a body of work the illustrations display cohesively and beautifully like any succulent garden with similarities and differences creating an overall desert masterpiece. Individually each artwork brings your attention to the unique mandala-like pattern with a humble nod to botanical symmetry.
Blank note card set of six with envelopes.
Colours may appear different on various screens and devices. For best indication of colour refer to the artwork graphic. Photo shoot for inspiration only.
PRINT
Colours are vibrant and crisp printed with archival ink on a luxurious canvas textured 5x8" card stock.
PACKAGING
All artwork are packed and handled with the most protection and care to ensure your piece arrives safely and in perfect condition. Packaged in a sturdy cardboard box with a 'handle with care' sign for shipping.
SHIPPING
Free world wide shipping.
AUS Post is used for all orders.
TURNAROUND
Please allow 1-2 weeks for delivery. You will receive a shipping notification when your order is dispatched.
SECURITY
Payments are secure and handled through Stripe. All transactions are encrypted and we do not store any credit card details.