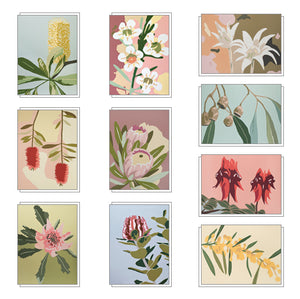 These paintings were created as part of my "Native Glory" collection which was for my first solo exhibition. With each painting belief grew in myself as an artist and what I was capable of achieving. Sweet, long exhausting days in the studio to be rewarded by an exhibition that was even better than I could have hoped for.
This collection of artwork features Australian native flora using colour palettes inspired by the Australian bush lands, deserts and coastlines.  The native flora's intricate details beautifully contrast the bold yet calming colours of the landscapes, each work echoing the shades and tones found in the flora's respective habitat. This collection is sure to bring peace and beauty into any space in your home.
Blank note card set of ten with envelopes.
Colours may appear different on various screens and devices. For best indication of colour refer to the artwork graphic. Photo shoot for inspiration only.
PRINT
Colours are vibrant and crisp printed with archival ink on a luxurious canvas textured 5x8" card stock.
PACKAGING
All artwork are packed and handled with the most protection and care to ensure your piece arrives safely and in perfect condition. Packaged in a sturdy cardboard box with a 'handle with care' sign for shipping.
SHIPPING
Free world wide shipping.
AUS Post is used for all orders.
TURNAROUND
Please allow 1-2 weeks for delivery. You will receive a shipping notification when your order is dispatched.
SECURITY
Payments are secure and handled through Stripe. All transactions are encrypted and we do not store any credit card details.